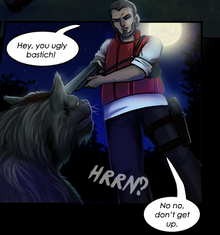 Bartholomew Bertrand, prefers to be called "Bert" by his friends.
Bert is an accomplished hunter who patrols Kellwood but has suggested there is another place he hunts monsters.
Prevented Victor from committing suicide after being scratched by a werewolf.
In ReVamped, it was revealed that he hunts with Victor's grandfather John Marlowe and a young Blaine.
In Here There Be Monsters, he criticizes the direction Blaine's hunting operations are going in due to his dislike of the Biker gang hunters.
Bartholomew Bertrand is inspired by the Resident Evil character "Barry Burton", both in his name and loosely in appearance. His hunting outfit in HTBM being the most obvious reference.
The author chose not to include the obvious line of: "Victor, you were almost a werewolf sandwich!"
This page has Marcus call the Animal Control "raccoon police" when Bert hands him the business card, a shoutout to the game's setting in "Raccoon City".
Ad blocker interference detected!
Wikia is a free-to-use site that makes money from advertising. We have a modified experience for viewers using ad blockers

Wikia is not accessible if you've made further modifications. Remove the custom ad blocker rule(s) and the page will load as expected.