Welcome to the Charby the Vampirate Wiki
Welcome to the wiki for the webcomic Charby the Vampirate! Here, you can find information on your favorite characters from the comic and everything else CTV related.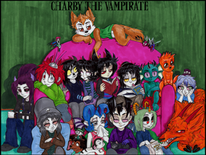 About this Wiki!
Charby the Vampirate is over a thousand pages, which is an intimidating prospect for a new reader, and spanning several years, a lot for longtime readers to remember! This is a repository of information that the author will try her best to fill out as much as possible, and as new information comes to light in the comic, she'll try to keep things up-to-date.
Please note this wiki doesn't use spoiler tags so please, if you don't want something spoiled for you go read the comic first. You can start reading the comic here.
Latest activity