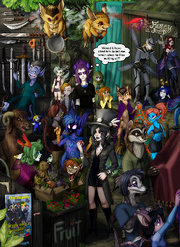 A market in
Kellwood
forest that moves from location to location. There are booths with different vendors selling their wares, from fruit to weapons, bizarre human "treasures" and delights from both the Demon and Fairy realms. Not always the best deals are to be had, but if you are seeking a rarity you'll probably find it here, though you may want to keep your own valuables close to you while you're there. Not every shopper is friendly and not every vendor wants money for your exchange.
Ad blocker interference detected!
Wikia is a free-to-use site that makes money from advertising. We have a modified experience for viewers using ad blockers

Wikia is not accessible if you've made further modifications. Remove the custom ad blocker rule(s) and the page will load as expected.