Orrotta Faithful couple who were killed by monsters while caring for a newly resurrected Zeno.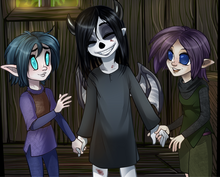 They acted as an adoptive mother and father to Zeno. Jorro was living with the Gatestone tribe (now called the Zoren Tribe) while Ezza lived with the Chavez tribe. Ezza left Chavez tribe to be with Jorro, and so that they could properly collaborate the Faithful when the risk of long-distance correspondence started to become a risk.
Ezza was kind and patient, sharing stories with Zeno, and Jorro did his best to build up Zeno's confidence. Needless to say, after years of being dead, Zeno came back a little wrong and needed a lot of care, and the two were up to the task. But when one of Zeno's dramatic outbursts lead him to run out into danger, both Jorro and Ezza were killed trying to protect him.
Ad blocker interference detected!
Wikia is a free-to-use site that makes money from advertising. We have a modified experience for viewers using ad blockers

Wikia is not accessible if you've made further modifications. Remove the custom ad blocker rule(s) and the page will load as expected.