Orrotta "Faithful" who attempted to deliver the Snathe of the so-called Demon Scythe to Zeno.
Extremely devout, a kind soul who fought very hard to rescue Zeno from Avonlea and Malcom's plot.
Had his soul-gem half removed by his former lover Avonlea, and left the Snathe to the care of the Orycalope Rose Sisters.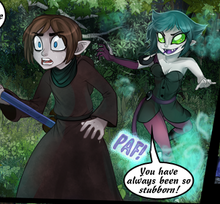 Ad blocker interference detected!
Wikia is a free-to-use site that makes money from advertising. We have a modified experience for viewers using ad blockers

Wikia is not accessible if you've made further modifications. Remove the custom ad blocker rule(s) and the page will load as expected.