June Paris is a female hunter working for
Blaine
. She has short, jet-black hair and prefers hunting in fashionable outfits . Her best friend on the team is
Ella
, thought she hangs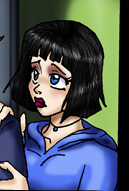 out with
Rayna
as well. She had reccomended her longtime friend
Victoria
as a great potential hunter to her boss, and was devestated when her friend was killed on the job. She has since accepted that it was not Blaine's fault that her friend was not careful on the hunt, but still blames herself for not asking her to join the girl's trio on the hunt.
Ad blocker interference detected!
Wikia is a free-to-use site that makes money from advertising. We have a modified experience for viewers using ad blockers

Wikia is not accessible if you've made further modifications. Remove the custom ad blocker rule(s) and the page will load as expected.