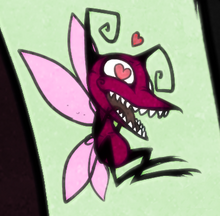 Charby's pet demon Skeeto that he made with his wish ring that Samrick gave him. This one is red with white eyes. Sanguine is the affectionate one, looking for love in all the wrong places. He tackled a small-sized Azelea, thinking the perfectly sized fairy was the perfect girlfriend until she sized up a bit. He briefly had eyes for Lemrya until his brother Malaria pointed out that she was a "giant spider who might eat him".
Ad blocker interference detected!
Wikia is a free-to-use site that makes money from advertising. We have a modified experience for viewers using ad blockers

Wikia is not accessible if you've made further modifications. Remove the custom ad blocker rule(s) and the page will load as expected.